Karl Burrows the founder of Haka Works and a New Zealander of Maori and European descent, and currently in London with his wife and 3 children.
In this podcast episode, Rich chats with Karl about how it all started and the history behind it. Previously a lawyer in New Zealand and London, Karl represented his tribe Ngati Maru in their negotiations with the New Zealand government to settle their claim for confiscated lands.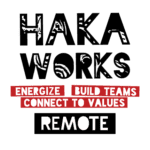 Haka Works is a consultancy that utilizes tools from Maori culture to energize events, build teams, and connect people to values. In doing so, this helps people make deeper connections, and build trust leading to improved team performance. He also runs a haka group that provides Maori cultural performances including the haka made famous by the All Blacks, the New Zealand rugby team. Karl talks more about this in his article 5 Ways Haka Builds Cohesion in Professional Teams.
"You are brought up in a culture and you are given these things from your family from you elders from your ancestors and then you think 'Is it my right to go out and be able to share these things with people?'. And there is a bit of hesitancy around that especially when you're amongst the first doing it."
Sit back relax and enjoy ....